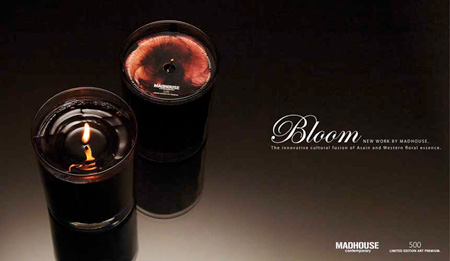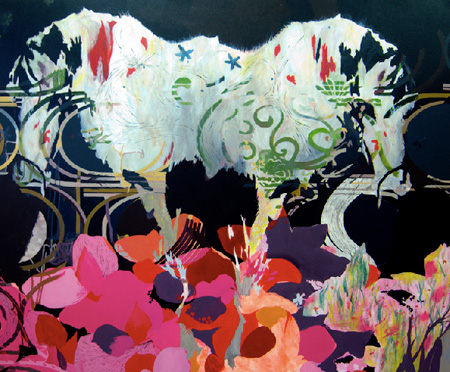 Kanako Anamachy
Curated by "ARI."
As one of the most unique art space situated in Central Hong Kong,
MADHOUSE is dedicated to uplift and promote the Contemporary
Art Scene here in Asia. For Summer 2009, Madhouse is pleased
to exhibit a special art project, "BLOOM" to the HongKong audiences!
People can easily relate "Bloom" with aroma and fragrance. In order
to enhance the beauty of the artworks and to express the exhibition
theme completely, curator Shin Wong had chosen to use"Scents" as
an element to optimize the show. In doing so, Madhouse cordially
invited scent ghost "Azure" to design a special fragrance exclusively
for this art exhibition.
"Bloom" as quoted by the curator, " is usually referred to as describing
the aesthetic experience of one or more flowers on a flowering plant.
For this exhibition, it is a metaphor for young artists at the blooming
peak of their time. The concept of the exhibition is to create a sweet,
sentimental and sophisticated feeling to the viewers who come to the
exhibition. In addition to enhancing these beautiful artworks, "scents"
also play an important role in a space." This theme well matches with
the vision of Azure to enrich consumer's experience through the
stimulation of senses.
The exhibition will be showing brand new artworks by four top emerging
artists from regional Asia. At the same time, the viewers will be able to
experience a specially formulated fragrance by Azure, exclusively for
MADHOUSE. The "Bloom" fragrance has also been made into perfume
candles, which will be available for Art lovers to collect during the
exhibition time – limited editions only.
"Bloom" will be showing in MADHOUSE from 15th of August ~ 5th of September.
EVENT : Bloom- ART + SCENTS EXHIBITION
DATE : AUGUST 15th ~ SEPTEMBER 5th, 2009. (11:00 -19:30, MON-SAT)
VENUE : MADHOUSE CONTEMPORARY - G/F, 10 KAU U FONG, CENTRAL, HONG KONG
OPENING COCKTAIL : 18:00 – 20:00, SATURDAY 15TH AUGUST, 2009